Creativity with Margin
07/22/2018
.
She didn't expect to see artists busily working across the patio when she walked out the Worship Center doors. Mandy was already planning how she'd spend the rest of her Sunday. As people began interacting with the art on the patio, she couldn't help but stop and watch. Standing at a distance, Mandy observed the volunteers with Saddleback Visual Arts (SVA) chat with people around the installation. The more she saw, the more she wanted to find out what was going on. At the end of the installation, she spotted a table with informational flyers, walked over, picked one up, and then headed for the parking lot.
Mandy was intrigued by the group of artists. A few weeks passed, and she nearly forgot about the flyer. When she picked it up again, she decided to commit to at least attending the next event, if only to see what it was like.
Mandy emailed Jason, the Director of Saddleback Visual Arts, and asked about getting involved. He let her know about an upcoming installation — a "Purpose Tree" designed to allow people to write out their purpose and hang it from a branch. That weekend, she showed up, ready and willing to help.
Mandy didn't feel like a creative person. It had been years since she'd created any art or music. But meeting with the other creatives at SVA, and helping people attach their purpose to the tree after the service, moved something inside of Mandy. To see so many people share their personal purpose, then hang it up next to those of the people they attend church with, left Mandy with a lasting interest in facilitating thoughtful interaction and conversations through art.
From that moment on, open-studio nights with SVA became part of Mandy's regular routine. While in the studio, she began practicing hand-lettered designs and discovered she had talent for it. People asked if they could display some of her completed pieces. Mandy felt encouraged that she could use her talents to share encouraging messages with other people. The group of artists often ended up hanging out together at the art studio several nights out of the week. The relationships at SVA pieced together a solid foundation for her to build community and feel connected to Saddleback Church.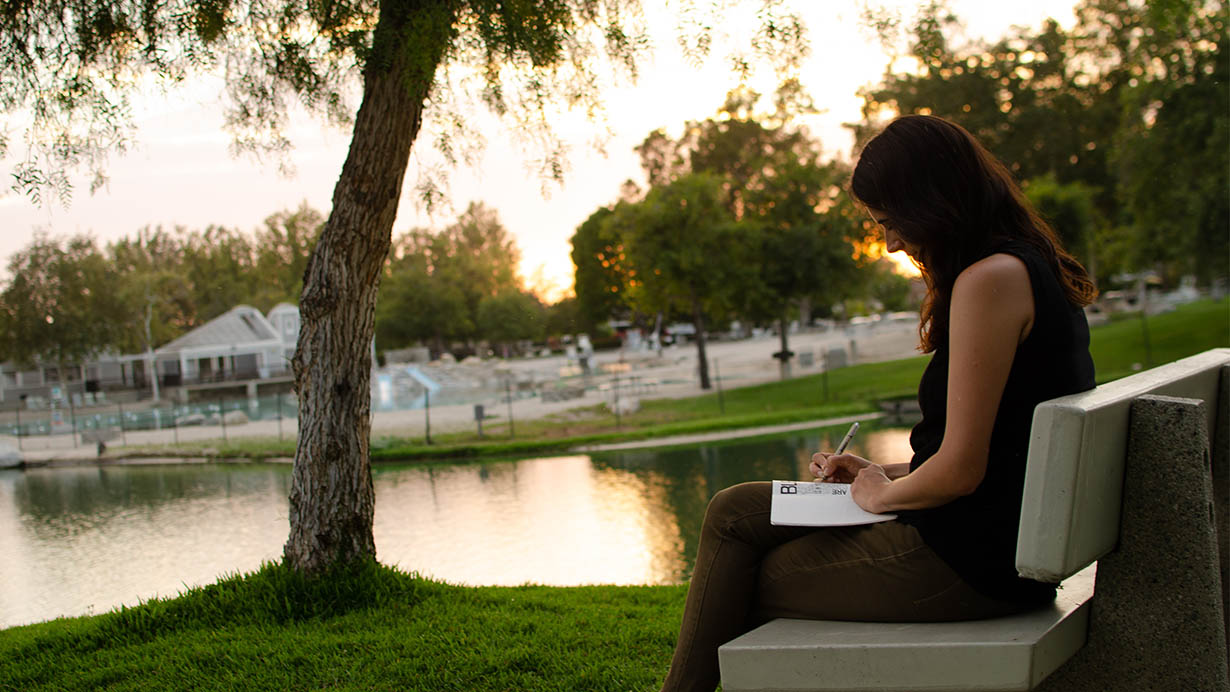 Mandy eventually stepped into a leadership role in SVA, helping organize other volunteers and art projects at Saddleback Church. Her new community of friends allowed her to remain anchored in a local church, and she felt like they were doing meaningful work. Everything was going great — or so it seemed.
But Mandy's schedule was out of control — there was no margin left for a break or time for herself. She found herself rushing from one activity to the next. In addition to working at her regular full-time job, Mandy was starting her own business. She continued leading at SVA, signed up for a volunteer-counselor training, and looked for other areas to volunteer.
Mandy was able to keep up this pace for a while, but eventually, the busyness began to wear her down. The joy Mandy once found in her community and activities waned. She didn't have the words for it, but she felt deep down this isn't the way God wanted her to be living. She lacked the time and energy to give to friends, and she couldn't stay focused at work — and she didn't have time for herself. Mandy loved to help and serve other people, but it seemed like she was doing that less effectively with each passing week.
Mandy's mornings would begin in a whirlwind of activities. She'd get up late, rush to get ready, eat as quickly as possible, and jump into the car with her roommates for the daily commute. Mandy assumed getting on with her day would give her the space and freedom to focus on the important parts of her day. But at the end of every day, she'd feel drained and unfulfilled. The cycle exhausted her.
Last year, Mandy felt she reached her breaking point. She decided a vacation was in order — time in Europe to recharge and refocus. While in Scotland, she reconnected with a mentor from her post-college time working with a Christian mission organization. After catching up, he prayed for her and Mandy began to sense that God was about to do something new in her life. She felt God telling her to trim her calendar down and create more time for the most important things in her life. God wanted Mandy to find a healthier margin for her life.
Unsure of what exactly that would look like, Mandy prayerfully considered what she would need to give up. She looked at her routine and schedule and asked God to help her see the right priorities. Mandy started with some simple steps — making changes in her morning routine. She set her alarm clock just a little bit earlier. Now, when she wakes up, she spends a few moments being silent before jumping into activities and busyness, giving her space and freedom to meditate on God, his plan, and his priorities for her that day. She has plenty of space now for devotion and a home-cooked breakfast, a process Mandy cherishes. The kitchen, one of her favorite spaces, is now a cornerstone of her routine. She spends a little extra time making a healthy, hearty breakfast every day. Some mornings she'll also spend time doing yoga in her living room. Other days, her extra time is spent in silence — doing nothing — allowing her to mentally focus on God and the day ahead.
Mandy's list of life-giving morning routines isn't rigid, but flexible — activities she can choose from on any given day so that she can do what's best for her that morning. Mandy even gave up carpooling, just to have a little extra quiet space alone every morning.
Still, she hadn't really given up much to begin getting her work-life-activity balance into a healthier place. The new morning rhythms weren't too difficult to implement. But God was about to ask her to give up some of the things she didn't want to release.
The first hurdle was her business. It was part of her dream, but as she began to tune her life into the rhythms that God desired for her, she felt him asking her to let that go. She had put a lot of work into it. It was part of her life. And now, she was releasing control of something she loved.
Next, Mandy felt God asking her to scale back her role at SVA. The artist community had been so life-giving for Mandy the past few years, so she didn't understand why God would ask her to step down as a leader. But as she talked through her concerns with Jason, and she felt this was the right step. Jason was very understanding and encouraged her to find a level of involvement that would allow her to keep her mind, body, and spirit in a healthy place. He expressed thanks for Mandy's time spent as a leader, and Mandy reassured him that she wasn't leaving the community of SVA, just stepping back from leadership responsibilities.
With her priorities fine-tuned, Mandy began to prayerfully evaluate her friendships, as well. As much as she wanted to, Mandy couldn't be present with everyone. Some of her long-time friends had to be kept at a distance now so she could focus on specific friendships.
The process of letting go, though liberating, was getting increasingly difficult. But Mandy wanted to continue to trust God, that he had her best in mind when asking her to make these changes. Some of Mandy's friends noticed and began commenting on the positive changes they were seeing in her life.
One day at work, she was on a call with a customer and, through the tone of voice on the other end of the line, Mandy noticed that something was wrong. She took the time to ask questions and show her customer that she really cared. Mandy ended the phone call in prayer for the woman on the other end. If Mandy hadn't gone through this process to get herself in a healthier place, she probably wouldn't have the presence of mind to help this woman in the way that she did.
A few weeks later, she was catching up with an old friend over lunch. Her friend commented that Mandy seemed more grounded and self-assured with the direction and purpose of her life, further affirmation that Mandy was making healthy choices with her life and her time.
Mandy has found that she can still be involved with SVA, just not in the leadership role she previously held. She still has those great friendships, and the space to go deeper with her small group and other friends that had been forced to the margins due to her full schedule.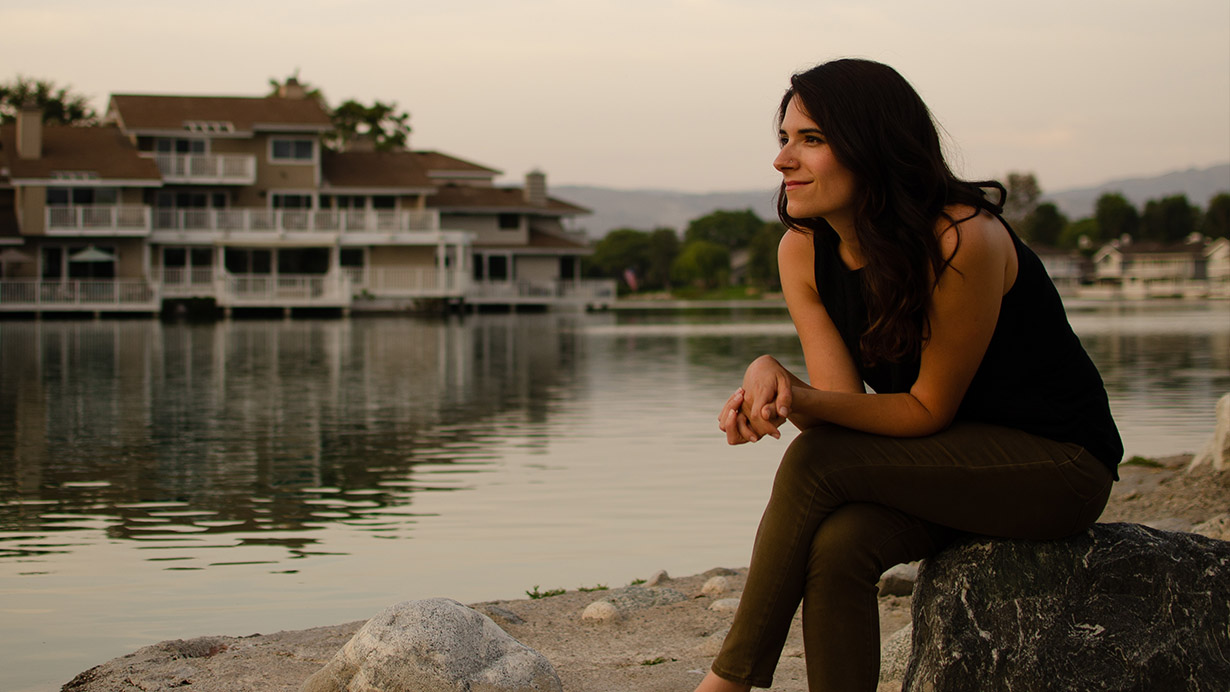 Over the summer, Mandy went to Europe again to refresh and relax. While there, she was able to meet up with a few other artists with SVA that were spending time in Spain on a mission trip.
Mandy was able to find time to take her relationship with God deeper and stay connected to the community that has brought her so much life during her time in Orange County. Mandy still feels connected to everything going on with SVA, but now she is healthier as she goes about her daily and weekly routines. Using her newfound confidence, Mandy is able encourage others to be more intentional with the margin in their lives.
Learn more about Saddleback Visual Arts (SVA) at saddleback.com/visualarts