The group walked in as strangers and left as connected members...
07/12/2018
.
Finding Your People: It Starts With Hello
It can be hard to put yourself out there, especially in situations of uncertainty. These moments challenge our ability to step out in faith and trust that God will provide for you.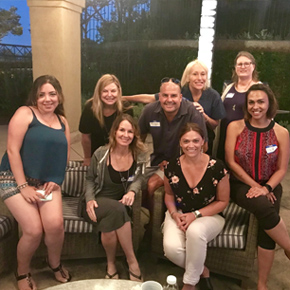 Taking risks isn't always easy, but for one small group looking back, they can't imagine their life without that risk. Lisa McDonald, Emily Coronna and several other singles have seen the fruits of their faith through their first small group meeting at a Coffee and Conversation meetup back in April. The group walked in as strangers and left as connected members of a new small group. Since then, their group has become unbreakable as they walk through new seasons of life together.
 Overcoming fear
"It was something you just had to get over," Coronna said referring to the reservations she felt when it came to showing up at Coffee and Conversation last April. "You know you're walking into a room of strangers just hoping to find your people."
 It is no secret that singles feel reservations when stepping into the small group event. It's not uncommon to feel overwhelmed walking into a group of strangers asking yourself: Will people talk to me? Will I find a small group? What if I waste my night?
That doesn't have to be the case. God asks us to overcome fears in His name, knowing He will be the guide and bless all our efforts. Psalms explains, "The Lord is my light and my salvation—whom shall I fear? The Lord is the stronghold of my life—of whom shall I be afraid?" (Psalm 27:1).
 It starts with Discussion
Finding your people means making your own decisions about who you want to be there as you experience life. To do this, diving into conversation and opening up about where you're at will make it easy to connect with people around you. 
McDonald and Coronna recalled the night their small group connected, noticing how by the end of the night they had made friends out of strangers and found similarities in the people they connected with. "We just talked and connected all night" McDonald said referring to her night at Coffee and Conversation.  "Before we knew it we were closing the place down."
 As children of God, we are supposed to engage in community with those around us. We are encouraged to interact with each other in intimate settings, not just taking on our own burdens but delighting in the community God gives us to walk with. "Live in harmony with one another. Do not be proud, but be willing to associate with people. Do not be conceited" (Romans 12:16).
 Meeting Up
Forming a small group is easier than you think. You don't need to fill out mounds of paperwork or take a loyalty pledge. Get a group of people together, let one of the leaders know, and dive right into curriculum the next day!
 "You just never know what you're going to walk into " Coronna said. "We're with each other through everything, it's the best!"
Step into community today
The risk is worth it. Getting connected with likeminded people who are committed to spiritual growth make all the difference when living out your Christian faith. We are inviting you to experience this with us. 
To find out more about getting your own small group started or joining an existing group, email Elsa Ketchum: ElsaK@saddleback.com.