A Night of Trauma
12/28/2018
.
Kelsey and her mom sat on the couch, ready to begin their end-of-summer tradition — their Fantasy Football draft. Armed with player statistics, draft plans, and projections, Kelsey's competitiveness was beginning to show while a documentary film played in the background of the football conversation. Kelsey's dad walked into the room and asked what they were up to; he had forgotten that football season had arrived. Leaving the women to their fun, he headed upstairs to relax in his home office.
A short while later, with their fantasy teams drafted, Kelsey and her mom went upstairs to get ready for bed and finish watching their documentary. Kelsey noticed the lights were off in her dad's office and that it was quiet. He must have fallen asleep at his desk, she thought to herself. A moment later, her mother's scream broke the silence.
Kelsey ran down the hall to find her mother frantically shaking her father's shoulders. He had his legs propped up on his desk and his head back, like he had simply fallen asleep while working. But the screaming and shaking wasn't waking him up. The dog began barking as Kelsey dialed 911 for help. The paramedics arrived, but it was too late.
In the weeks that followed, Kelsey didn't know how to process everything that had happened. She had just graduated from college, their family had gone on a great vacation together, and she was applying to a graduate program at USC.
She questioned why her dad had to die when he seemed healthy and life seemed to be going so well. During the funeral, well-meaning friends tried to comfort her, but Kelsey just needed space. Stressed out and depressed, she chose to distance herself from the people around her. Her family now had a hole where her father's presence had been. He wouldn't be there to walk her down the aisle at her wedding, and he wouldn't see her graduate from USC; she needed him and he was gone.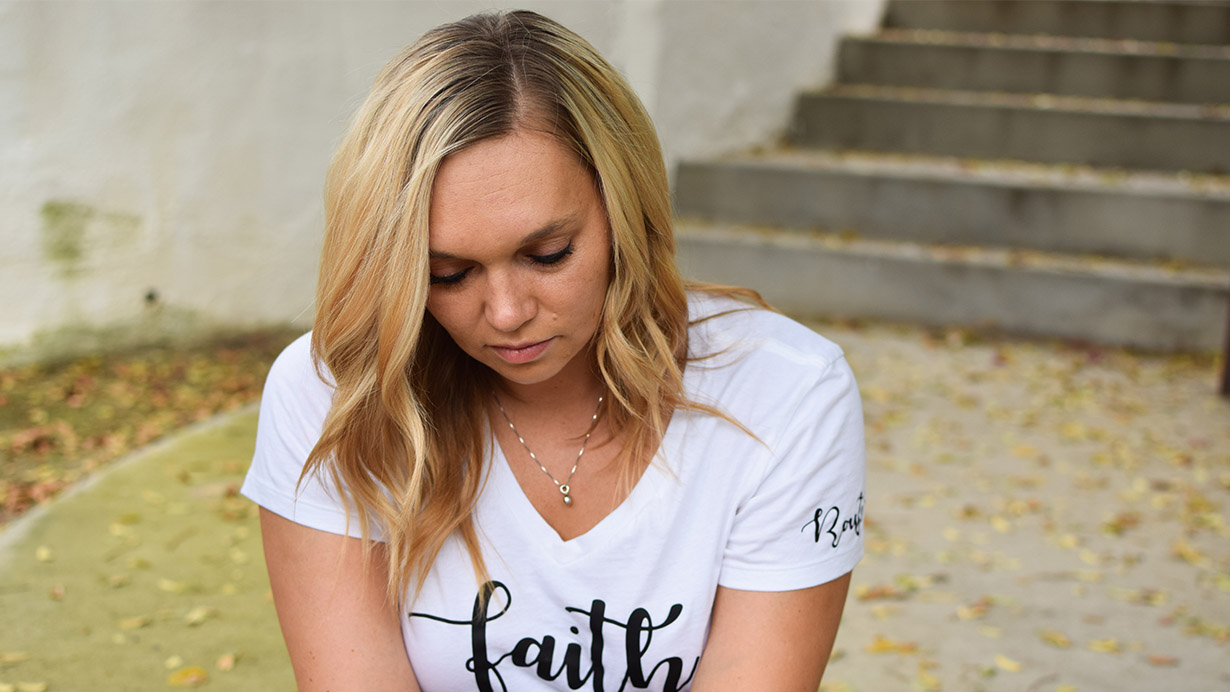 Frustrated, she blamed God. Her dad's death wasn't fair and she felt like God had robbed her of one of the most important relationships in her life. Even though she'd been raised in the church, Kelsey decided she didn't need it anymore. She thought she could find her own way to make the most of life.
Kelsey tried to move on as if life was normal. She successfully completed her program at USC and began teaching. But the first school that she worked for ended up having significant administration problems, and Kelsey couldn't stay beyond the first year. At the same time, Kelsey had been with her boyfriend for a few years, and she thought a proposal was right around the corner. But right before she left her job, their relationship fell apart.
Always staying positive and hopeful, Kelsey began planning fun events with her friends. A music festival she had always wanted to go to was coming up in a few months, so Kelsey bought tickets and two friends, Jenna and Cierra, made arrangements to join her in Las Vegas for the Route 91 Harvest festival. They booked a hotel right next to the concert venue and looked forward to a weekend of fun and great music.
Kelsey, Cierra, and Jenna were standing right in front of the stage during Jason Aldean's performance. It was a great location to see the band and hear the music. As the performance began, Kelsey heard what sounded like fireworks coming, but she didn't think much of the unexpected noise. The atmosphere was fun and festive; it didn't seem abnormal that someone would be lighting off firecrackers. But then people to her left and right began falling down to the ground, and screams began erupting around them. As the gunman opened fire on the crowd, the girls' prime location would become one of the most dangerous places to be standing.
The crowd surged as people fled in every direction. After being frozen in fear for what seemed like hours, the girls took off running and were immediately separated. As Kelsey ran, she watched as people held loved ones on the ground around her. Her mind was in full panic; she had no idea where to go or what to do. Nothing in life had prepared her for a moment like this.
She found an ATM machine that gave her temporary cover until police entered the area and showed her which way to run. Kelsey didn't stop sprinting until she entered the lobby of her nearby hotel, where many of the frightened concert attendees had retreated, as well. Everyone was sharing whatever information and misinformation they had — some people thought the gunman was just outside the hotel they were in, others thought there were bombs going off. Kelsey headed for the overcrowded elevator to get to the safety of her room.
Within minutes of opening her door, Jenna, Cierra, and another frightened girl who had gotten caught up in the flight were inside the room together and reunited. Kelsey closed the blinds, shut the lights off, and the four girls huddled on the floor in between the two beds. They sat awake all night long, afraid to talk, afraid to turn the lights on, afraid to use the bathroom, and afraid to run the sink to wash the blood and dirt off that was smeared across their arms and legs.
The next morning, fueled by the adrenaline of the previous night's events, Kelsey drove straight home on no sleep. She walked in her front door into the arms of her mom and grandma who couldn't be happier to see her, alive and safe after the horrific tragedy. But the lasting effects from that night in Vegas would continue to take their toll.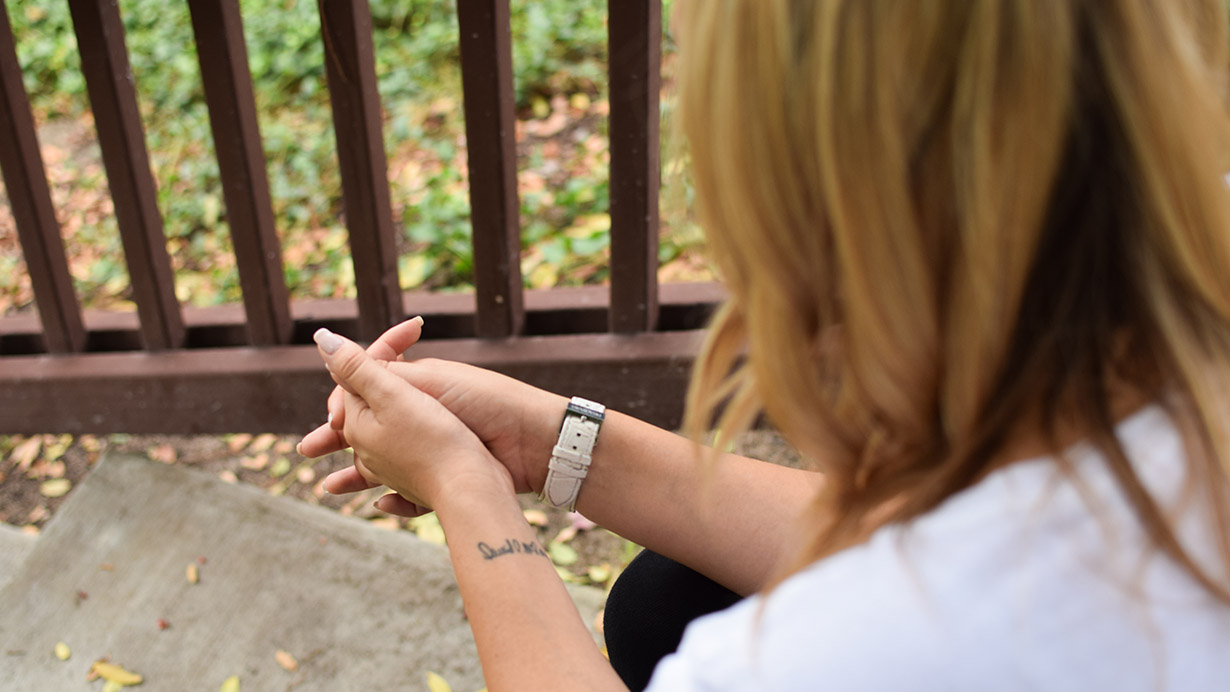 She couldn't sleep at night, often waking from nightmares. At unexpected moments, she would find her mind taking her back to that night in a flashback, completely losing touch with reality. Two weeks later, she had to resign from her new teaching position after having a flashback in the middle of the day with a classroom full of students.
As she struggled to find her "new normal" and learn how to deal with the trauma of living through a mass shooting, Kelsey heard about a trauma-counseling night at Saddleback Church for Harvest Festival survivors. Saddleback was the church she had given up on two years before, after her father's death, but now she saw them reaching out to help her in her time of need.
When Kelsey walked into the tent at the Lake Forest campus, she was surprised to see counselors sitting at every table, where groups of survivors could sit and talk about their experience and share their stories in a safe environment. It was a big first step in Kelsey's emotional healing and healing in her relationship with God and the church. Maybe, she thought, if the church cares this much for people in the community, I should give it another chance.
A family friend attended Saddleback's Rancho Capistrano campus and Kelsey began joining her on the weekends. She has found the Rancho campus the perfect setting to connect with healthy Christian community again.  Inspired by the counseling night for shooting surviviros, Kelsey has looked for more ways to get involved at church, going through all of Saddleback's Classes so she can give back to others and share what God has done in her life in spite of the tragedies she's faced. The symptoms of her PTSD (post-traumatic stress disorder) are affecting her less frequently, but she's still looking for ways to continue her healing journey. She regularly meets with a counselor for one-on-one sessions and had her lab-shepherd-mix dog, Olive, trained to become her service dog to help her if she's out in public and has a flashback.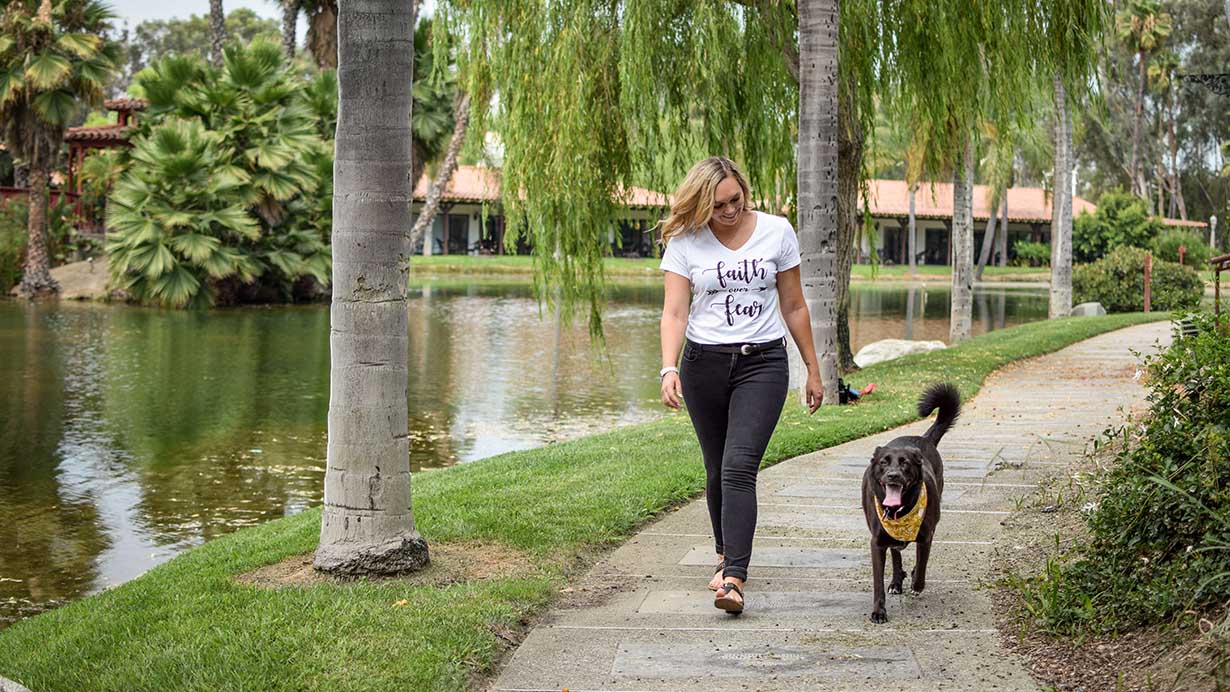 Kelsey has found that most people fail to understand what she went through. She's been interrogated for having her service dog with her in public because she "looks fine," and she's found that she has to be careful about activities she is part of, as crowds, lights, or loud noises can easily trigger a flashback.
Her friends realized the severity of a flashback when the home run fireworks at an Angels baseball game triggered a 10-minute flashback for Kelsey. When she came to, they remarked how out-of-it she was. They sat with her and comforted her. Kelsey felt embarrassed at her public lapse of consciousness but was grateful to have good friends close by for support.
Kelsey is learning to take the good and bad days in stride as she continues to overcome her PTSD from the shooting. When she was in high school, a friend that struggled with depression had taught her a strategy to focus on one happy thing every day, no matter how hard that day is, and Kelsey has spent every day of the past spring and summer collecting those one-happy-items-per-day to share on Instagram and the Route 91 survivor groups she belongs to on Facebook. When the one-year anniversary of the Harvest festival arrives, she will have collected six months of daily happiness that she's been able to share with the people around her.
Though her life looks very different from a year before, Kelsey feels like she's on a good path to healing. She plans to begin counseling training next year to help other people process and heal from trauma in their lives.
Kelsey didn't expect her life to take the dramatic twists beginning with her father's death and culminating in her experience of surviving a mass shooting, but she realizes these events have led her back to her faith and trust in God and made her more aware of what's important in her life. She is now teaching at a Christian school nearby and is writing a book to help all survivors of mass shootings. Surrounded by great friends and a church family, she's ready to move forward in life with renewed purpose and faith, excited to make a difference in the lives of others and share her story of healing.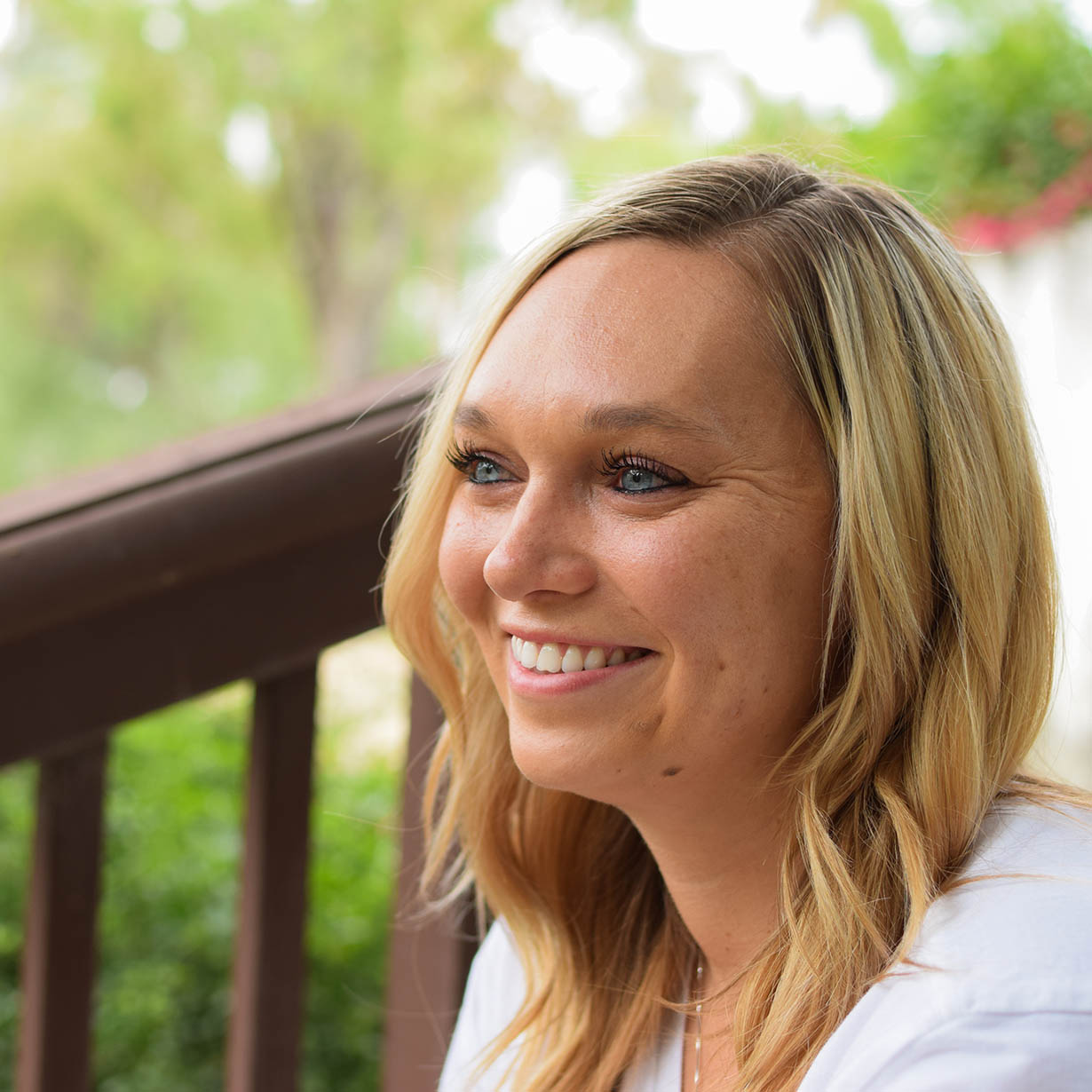 Learn more about the counseling ministry at saddleback.com/counseling