Bringing Hope and Healing Amidst the Trauma of War
04/14/2022
UKRAINIAN REFUGEE UPDATE
Listen to Ksenia, a young volunteer serving on the ground in Poland as she shares what a typical Ukrainian refugee seeking safety in Poland looks like.  
She is a woman between 30 and 35 years old, with one or two children.   Sometimes she comes with her mother, so she has to care for two generations – her young children and her aging parent.   She is full of anxiety, worrying about her future and emotionally she has shut down.  She doesn't feel anything, apart from fear of not knowing what to do or where to go.  Full of fear, with no one to rely on.   She needs stability and support – financial, emotional and spiritual.
This video reveals one of the most striking challenges churches are responding to -- caring for the trauma these mothers are enduring. Being displaced into unfamiliar living conditions, losing their homes and jobs, leaving the security of their community and braving the loneliness of separation from their husbands and family fills them with anxiety.  In addition, they're weighing the uncertainty of returning to their homeland while others are choosing to remain safe in Poland. In either circumstance, their future is in doubt no matter what decision they make.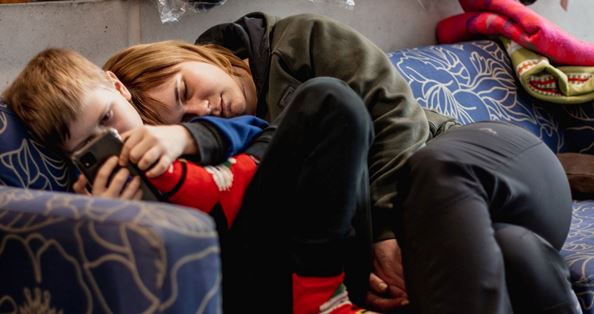 WHAT SADDLEBACK IS DOING RIGHT NOW
We're partnering with our network of churches in Poland to provide support for basic needs such as shelter, clothing, food, and medical supplies which are in short supply.  Andrzej Gorski, one of our partners in Poland says, "European Christians are enlarging their tents daily to help the Ukrainian refugees with serviceswear to ease the bureaucracy and burdens of their transition."
Saddleback has sent several trained Crisis Response Chaplains who are on the ground serving refugees. They are witnessing the physical signs of war; weary eyes and emaciated frames. What they are also seeing is the woundedness of mental and emotional pain.  The team isn't able to capture in words the look of worry, pain, desperation, and anguish on their faces.
WHAT YOU CAN DO RIGHT NOW
PRAY – Our Saddleback Relief Team's latest prayer requests:
Pray for good health for both the refugees and volunteers serving the crisis. Many of the refugees are getting sick due to lack of adequate living conditions, medical assistance, healthy food, and warm clothing, especially in the cold weather.
Pray for the refugee children who are experiencing deep trauma from the disruption of normal day to day routines. They're afraid and don't understand why this is happening.
Pray for the women and children who have left behind husbands, fathers, brothers and sons. The loneliness and fear for the lives of their loved ones is emotionally debilitating to them.
GIVE - Your gift to Saddleback Church is making a difference:
You are supporting the physical needs and helping care for emotional trauma.  Our church partners are accommodating more than 2.5 million people who seeking refuge in Poland. 
Our network of churches has been preparing safe havens for long term refugees, serving over 3,000 in the past 5 weeks. Trauma assistance has provided a safe place to share their emotional pain and find comfort in knowing that others will be there to hear their stories and offer comfort. 
GO – How you can serve: 
We trained several volunteers in a 2-day trauma preparedness course for upcoming trips. We'll be offering this class again soon. Email globalrelief@saddleback.com to sign up.
We are organizing relief trips to send in the coming months. Sign up HERE.
Pastor Rick says, "When people are in deep pain they don't need explanations, advice, encouragement or even Scripture.  They just need you to show up, to shut up and simply be WITH them.   It's the healing ministry of presence."   Our advance relief team knows that when they don't have the words, they choose to sit, they drink tea together and offer the comfort of a hand to hold or a warm embrace.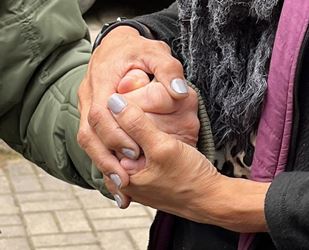 This is the simplest message of the gospel: "For when I was hungry, you gave me food.  I was thirsty and you gave me something to drink, I was a stranger and you made me your guest. I needed clothes and you provided them, I was sick and you took care of me, I was in prison and you visited me."  (Mat 25:35-37) Jesus said, "That whenever you do these things for one of the least of these, you did them for me!" (Mat 25:40)