Purpose Statement
To transform community through creativity
Saddleback Visual Arts (SVA) is a community-focused arts initiative for makers to come together and use creativity to reawaken hearts to the love of God. We believe that your art creates transformation when rooted in the Spirit of God. We hope to see you reach your best, and so we continually offer resources, classes, serve projects, and community. Locally, we use the arts to make the church come more alive and to make the gospel visible in our city.

Stay In The Know
1. TEXTS: Text "SVA" to (949) 227-2722 and you'll get 1 essential invitation per month to stay connected.
2. JOIN: Click the blue"VOLUNTEER" button in the Connect section below. We'll reach out with an invite to a Welcome Coffee with a few others so you can learn more.
3. COMMUNITY HUB: Join real-time conversations and collaborate on projects with the community on our CoCreate Discord chat.
4. SUBMIT ARTWORK: Want to show your work in one of our venues in the church or in the city? Read more and Submit here.
Open Create Hours
The Arts Center in Tent 1 at Saddleback Lake Forest is open weekly for you to use for your creative projects and connection to community. It's a co-working space for creatives.
Thursdays 6:30-9:30 PM
Saturdays 1:00- 6:00 PM
See Details + FAQs by clicking on an Events Listing below
Want to Learn More?
Visit our official website to see more in-depth information about our ministry, how we're impacting the community, and ways that you can get involved.
http://www.saddlebackvisualarts.com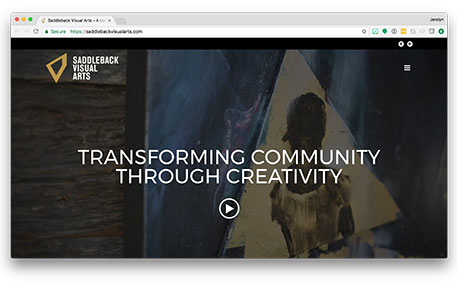 @saddlebackvisualarts
Make your mark. Join the conversation
Related Ministries
<p>Open spaces for faithful creatives to bear witness to the love of Christ in broken places. We are poets and painters, dancers and digital designers, architects and actors, musicians and makers of all kinds.<br /></p> <h2 align="center"><strong><em>We envision every creative at Saddleback knowing they are God's masterpiece, created to walk in the good works he prepared long ago. (Eph 2:10) </em></strong></h2> <h2><strong>1 // We are God's MASTERPIECE:</strong></h2> <blockquote> <p><strong>Gain freeing knowledge through a CoCreate Class</strong></p> <p>We offer a class called &ldquo;Creativity &amp; Faith&rdquo; that answers questions like, what does God think of artists? What place do I have in the church? How do Christian artists show up in the broader culture? We also offer a class called &ldquo;Creative Calling,&rdquo; exploring your unique God-given SHAPE as a maker and reveals how you can make a significant impact in the world. Email <a href="mailto:CoCreate@saddleback.com">CoCreate@saddleback.com</a> with the word &ldquo;Class&rdquo;</p> <p><strong>Embrace life-giving relationship in a CoCreate Group</strong></p> <p>Monthly meetups of 5-10 creatives who come together around the table to share their craft and talk life. This atmosphere creates a space to belong and grow together and an opportunity for group prayer, personal encouragement, and collaboration. Email <a href="mailto:CoCreate@saddleback.com">CoCreate@saddleback.com</a> with the word &ldquo;Group&rdquo;</p> </blockquote> <h2><strong>2 // We are walking in God's GOOD WORKS:</strong></h2> <blockquote> <p><strong>Feature your work at a CoCreate Night</strong></p> <p>We want to celebrate the good creative projects that are rising up through people in our community. CoCreate nights feature work of local creatives quarterly at a coffee shop or open market space. CoCreate Nights gather large groups to celebrate the poetry, design, film, art, dance, and music being written through us. <a href="https://forms.gle/cuEfr3nkTcUpEfxH8">Submit your work here.</a></p> <p><strong>Create with compassion in a CoCreate Project </strong></p> <p>We envision being a church that expresses compassion through art. Pastor Rick has told us, &ldquo;There are [people] in Southern California who are never going to be reached by a sermon. In any sense, I commission you artists as missionaries.&rdquo; We envision things like musicians bringing hope to thousands through music at the food distributions. Poets and vocalists blessing patients in the ICU. Painters and photographers gifting works of redemptive vision for the homeless and mentally ill on our streets.</p> </blockquote> <p><strong><h3><center> Stay In The Know</center></strong></h3></p> <p>1. <strong>EMAIL</strong>: Submit your name + email in the orange box below and you will receive Saddleback Worship's Near & Far bi-weekly newsletter. This is where all CoCreate invitations are sent.</p> <p>2. <strong>CHAT</strong>: Join real-time conversations and collaborate on projects with the community on our <a href="https://discord.gg/eTJPpwPq5X">CoCreate Discord chat.</a> </p> <p>3. <strong>TEXTS</strong>: Text "cocreate" to (949) 227-2722 and you'll get 1 essential invite of per month.</p> <p> <p><strong><h1><center> Open Create Hours </center></strong></h1></p> <center> <p>The Arts Center in Tent 1 at Saddleback Lake Forest is open weekly for you to use for your creative projects and connection to community. It's a co-working space for creatives. </p> <strong></h3><p> Thursdays 6:30-9:30 PM </p> <p> Saturdays 1:00- 6:00 PM </p> </strong></h3> <p>See Details + FAQs by clicking on an Events Listing below</p> </center>