You're Invited
Feel the magic that comes with being together during Saddleback's annual Christmas lights experience!
During this walk-through event, share the joy of community while sipping on hot chocolate, strolling through Christmas-themed lands, and snapping photos of the illuminated night sky.
Reserve Your Spot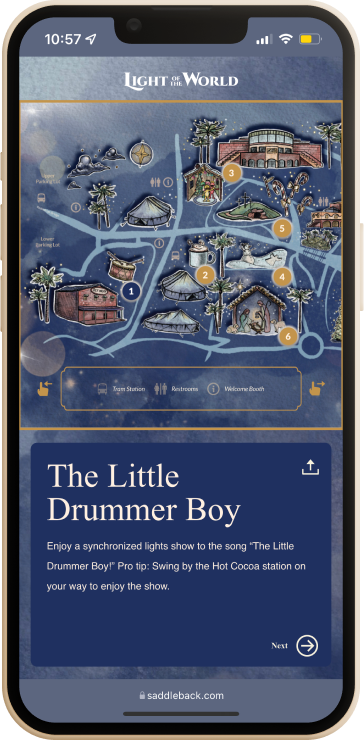 Enhance and share your Christmas lights experience with the interactive map.
View Map

FAQ's
How much does the event cost?
Nothing! It's FREE for all guests and we would love to welcome you.
What are the hours that Light of the World is open?
Monday–Thursday | 6:00–10:00 PM
Friday–Sunday | 7:00–10:00 PM
What dates will Light of the World be open?
Do I need a reservation to come to Light of the World?
Yes. Reservations are limited for each hourly time slot so that we can provide a comfortable and enjoyable experience for all our guests.
Where can I register?
Registration will open at 8am on November 17th.
Does everyone in my party need a separate reservation?
No. Only one person needs to register and you can let us know how many people are in your party.
Where do I park?
Parking for Light of the World is available in our Upper, Lower, and Bridge lots. You will receive a map with instructions on where to park when you register, and we will have parking volunteers to help direct you on where to go when you arrive on campus.
Will there be food?
Yes, we will have food available for purchase.
Is the event indoors or outdoors?
Light of the World is a multi-sensory outdoor walk-through experience. Check the weather for the day you have reservations and dress accordingly.
Photosensitive warning
The Little Drummer Boy attraction contains flashes of light that could trigger seizures for people with visual sensitivities.
Will I be able to drive-thru?
Light of the World is a self-guided walking experience. There will be no access by vehicle to any of the experiences.
Are there any handicapped/special needs accommodations?
All parking lots have handicap parking spaces. There will be three shuttle areas to help move people between the upper and lower areas of the event. This is a walk through event, so none of the attractions are accessible by car; however, everything is handicap accessible.
What if I can't make my reserved time slot?
No problem! You can cancel through the link found in your reservation confirmation email.
Can I come more than once?
Of course! Come as many times as you'd like. Just make sure that you register for a ticket for each day and time slot you come to visit.
Can I take photos?
Can I bring my pet?
Yes, pets are welcome to join the festivities (they're part of the family after all), but must remain on leash and be cleaned up after.