3,500 Leaders Trained
08/30/2017
.
Kicking off the month was CR Summit West, held at Saddleback Church Lake Forest from August 9-11. For three days, Celebrate Recovery leaders from around the country, as well as our own Saddleback members and staff, were trained and equipped in this powerful ministry. Each year, the event draws in more people who want to gain tools to share the biblical, 12 step program. In addition to regional attendees, people from seven countries flew in for the CR Summit.
According to Marnie Buehler, Celebrate Recovery Director of Conferences, "We outgrew the Saddleback campus five years ago and our attendees begged us to hold another Summit on the East Coast. Now we hold two Summits each year with about 3,500 attendees on the East Coast and 3,500 attendees on the West Coast."
This growing demand for training is helping Saddleback achieve our Daring Faith goal to train 25% of our members to be global leaders in the church and ministry. Under direction of CR founders, Pastor John and Cheryl Baker, those who attended Summit West were trained on new CR content—including combating the opioid epidemic and the legalization of Marijuana— through main sessions and five workshop sessions. Conference highlights included a concert by the band, for KING & COUNTRY, as well as a dessert social for fellowship and networking.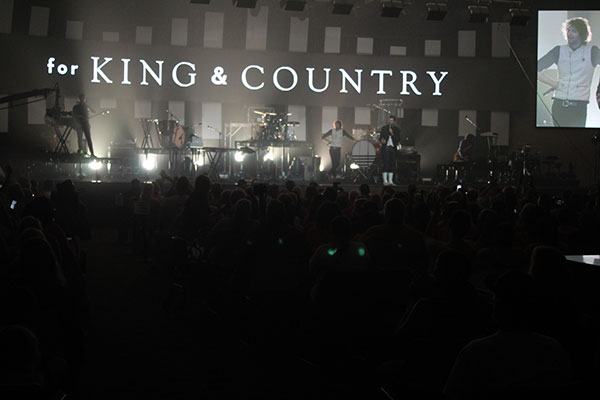 Titled "The Summit of Love," the event was built around key verses from Matthew 22:36-39, to "Love your God with all your heart, soul, and mind," and to "Love your neighbor as yourself." Together with the National Celebrate Recovery team, Pastor John and Cheryl Baker taught on how to love God and others, and what these verses mean in relation to Celebrate Recovery, personal life, and ministry.  
A special treat was the celebration of co-founder, Cheryl Baker's 70th birthday on Thursday, August 10th. While preparation for the Summits were in full swing in January of this year, Cheryl had contemplated, "Can God Use Me Even at 70?" As she shared on stage, the answer was a resounding "yes!"  
"This became one of the most impactful moments at the Summit," says Marnie. "Not only did Cheryl speak about how God can and is still using her at 70, but her son Johnny and daughter-in-law Jeni spoke on how Celebrate Recovery affects the entire family."  
To demonstrate the value of Celebrate Recovery for the entire family, CR kids sang on stage and shared insight about Celebration Place—the Celebrate Recovery kids program. Two teenagers gave their testimonies about how they struggled with eating disorders and peer pressure, and finally found hope when Celebrate Recovery helped turn their lives around. The inspiring session demonstrated that no matter your age, God can use you through Celebrate Recovery.
In addition to impacting people across the country, Saddleback's own Celebrate Recovery team found encouragement by interacting with regional leaders and learning new teaching techniques. Since the Summit is offered to the public, it's especially rewarding when Saddleback staff and members attend to learn and experience life change through Celebrate Recovery.
As Marnie explains, "From Saddleback members and staff, we've heard of personal breakthroughs in their hurts, hang-ups, and habits. We've also seen this from the volunteers who worked the Summit."
The impact doesn't end there, however. This fall, Celebrate Recovery will be hosting CR One Day Seminars across the United States. This is in addition to the two annual Summits. Upcoming events will take place in Fort Wayne on September 23, Fayetteville on October 7, Myrtle Beach on October 21, New Wilmington on November 4th, and Orlando on November 18th. For more information, visit www.celebraterecovery.com.