Announcing Our Next Senior Pastor
06/02/2022
Dear Saddleback Family,
This is the historic news that I've wanted to share with you for some time.
Today, Kay and I are thrilled to publicly announce our next Senior Pastor of Saddleback Church and his wife: Andy & Stacie Wood, who will be coming to lead Saddleback from their 14-year ministry at Echo Church in San Jose, California. Like Kay and me, Andy and Stacie started a brand new Purpose Driven Church with just a handful of people and they grew it to nearly 3,000 attendees on 4 campuses. Kay and I, and our Elders, have unanimously selected Andy Wood to lead us into the future as a church family. We are all SO excited! You're going to absolutely LOVE this couple. Andy is 40 years old and full of God's love!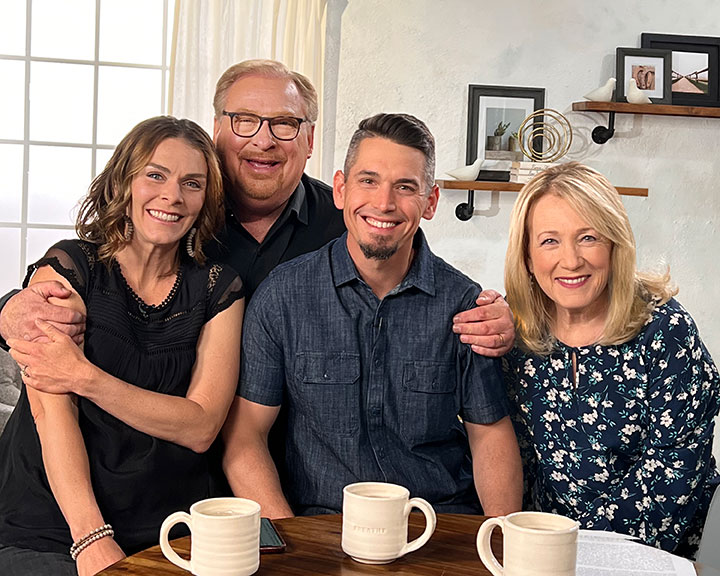 There are many details that I'm eager to share with you. So let me ask you to do two things:
1. Watch this video which includes words from Andy, Stacie, Kay, and me.
2. Don't miss this weekend's service where I'll share more of the details, and timetable.
As you know, last June, a year ago, I publicly announced that I was starting the formal search for my successor. I've spent much of the past 12 months talking with, reading about, and interviewing potential senior pastors for our church. (More info. About this on the video) Then, our Elders and their wives spent days interviewing and fellowshipping with Andy & Stacie, learning about their lives and ministry.
This afternoon, at our all-staff meeting held at the Lake Forest campus, I was finally able to publicly announce that we have found God's couple to lead our congregation and that they have agreed to come!
This is a very satisfying and emotional moment for Kay and me. We are filled with love and gratitude for YOU! Like Paul, we can say "I have fought the good fight. I have finished the race. And I have kept the faith!" 2 Timothy 4:7 (NIV) Now it is time for us to pass the torch on to a new generation who will love, lead, and pastor our church family in the decades ahead.
43 years ago this month, in June of 1979, while I was a student at Southwestern Seminary in Fort Worth, I had my Damascus Road experience. It was not a blinding light like Paul saw. Instead, it was with the dim light of a single 75-watt bulb hanging from the ceiling, on an old cord in a dusty storage room. It happened in the basement of nearby Texas Christian University Library where I had gone to research US Census statistics on West Coast cities.
Pouring over census charts that summer afternoon my eyes fixed on a word I'd never seen before: Saddleback. I had no idea how that single word, Saddleback, would shape and direct the rest of my life. I felt my gaze strangely frozen on that word. I couldn't take my eyes off it! The word Saddleback captivated my heart and I felt electric excitement running through my body. At that moment, God whispered, "That's where I want you to invest your life growing a new church." I started sobbing. That was my calling to serve you. From that moment on, for the next 43 years, every single day of my life would be dominated by that word, Saddleback.
I can't wait to see you this weekend and explain the timeline.
Have I told you lately that I love you?
Pastor Rick