Camp Hope Fills God's House
05/27/2018
.
Memorial Day weekend is a time to reflect on the sacrifice of those who have served our country. It also officially marks the kick-off of summer at Saddleback Church — three months of summertime fun with luau parties, cookouts, baseball games, skate nights, and more.
From May 27 through September 2, Saddleback will be hosting family-friendly events for kids, friends, and neighbors to enjoy together this summer.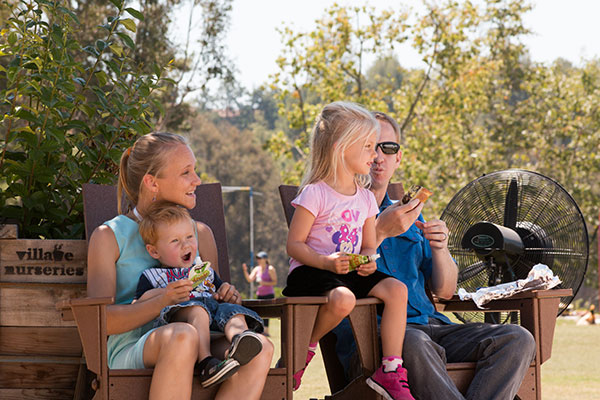 "At the end of most services, we have a lot of fun activities planned at Camp Hope," says Anthony Miller, Saddleback's Pastor of Communications. "It's our way of investing in families, and Saddleback Church really is one big family. In fact the 'K' in Saddleback stands for 'Kid and family-fun church' so we're excited for all that's in store this summer."

Built in 2014, Camp Hope in the center of Saddleback's Lake Forest campus, is where people gather after service to enjoy summer events. Reminiscent of a summer camp, this communal spot was designed with teepees, a cabin, canoe, and camper. It's here that visitors often linger past the church service to connect and find community.
"We wanted to turn the area into a place where families would come, hang out, and stay," says Rommel Manio, Saddleback's Campus Experience Pastor. "Environments matter, and we want our church to trigger a good emotion when someone walks into that space. It's about taking down the walls of fear and anxiety, especially if someone hasn't been to church in a while or is unchurched."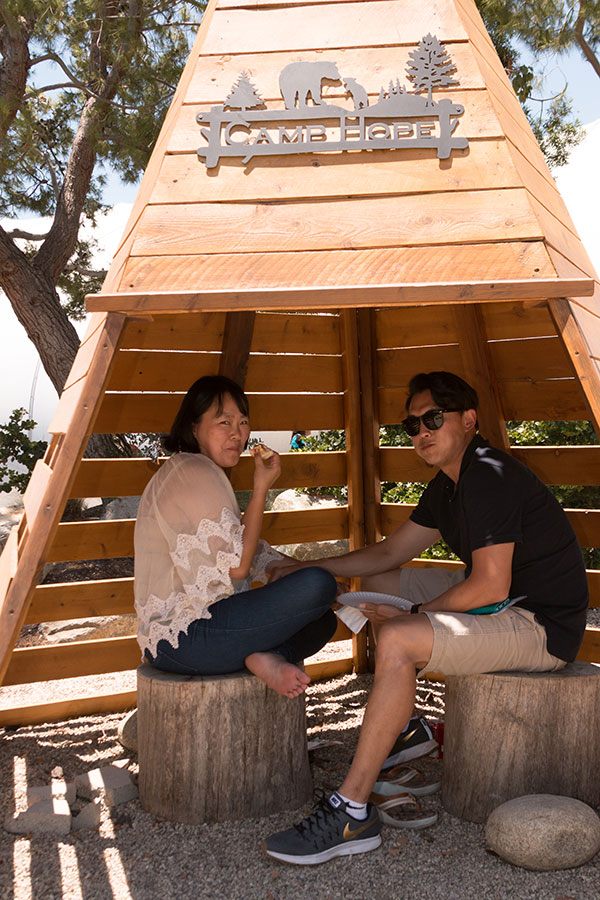 To tear down those walls, the Campus Experience Team has created an impressive summer line-up starting with the Kick-Off on May 26/27 with music, popsicles, and a bubble party. Other weekend activities include the Annual Luau, Splash Bash with a water zone, and the Cook Out with inflatables and play areas for kids. The team also plans to host a Puppy Party on July 28, a Reptile Show on June 23/24, and S'mores Night on July 7.

Nearly every event is hosted at Camp Hope following weekend services between Memorial Day through Labor Day.
"Camp Hope gives the Lake Forest community a place to hang out and enjoy free music and food on Saturday, and hopefully try out a service at some point," says Campus Event Associate, Montana Kleppe. "It's also a space to meet new people and stay after service. We want our church to be known as a fun place that makes people feel comfortable."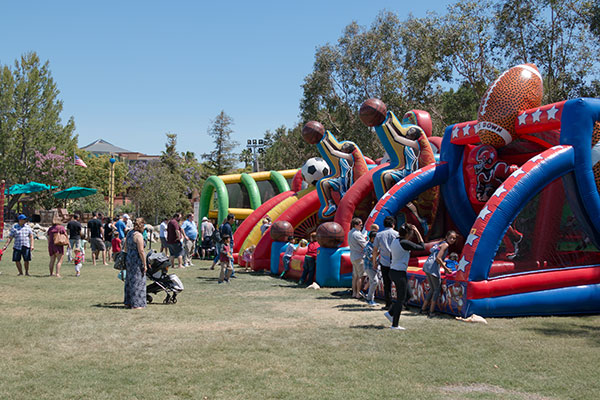 This attribute of "preparing a place" for community comes directly from Jesus in John 14:3. As emulators of Christ, when it comes to environments, we too must be responsible for preparing a place that will demonstrate our greatest efforts, says Rommel. "You have to treat each person like they're that one you can affect today," he adds.

 For more info on upcoming summer events, visit saddleback.com/summer.
2018Camp Hope Summer Calendar
May 26/27 - Summer Kickoff (Bubble Lady & Free Popsicles)

June 2 - Live Music - (Swing Dancing – Saddleback Singles Event)
June 9 - Princess Show
June 16/17 - Father's Day Weekend
June 23/24 - Reptile Show - (Gelato – Saddleback Singles Event)
June 30 - Live Music - ( Pizza Party – Saddleback Singles Event)
July 7 - S'mores Night
July 14 - Luau
July 21 - Live Music -  (Harmony Tea Bar – Saddleback Singles Event)
July 28 - Puppy Party  
August 4 - Splash Bash - (Salsa or Swing dancing – Saddleback Singles Event)
August 11 - Live Music
August 18 - Magic Show - (Soda Floats – Saddleback Singles Event)
August 25 - Live Music
September 1 - End of Summer Cookout