Honored at Commander Conference Dinner
05/28/2018
.
Memorial Day weekend is a time to pause and reflect on the love and sacrifice of those who gave their lives for our country. At Saddleback, we aim to serve and honor the people who protect our freedom, not just on holidays but every day of the year through our ministry, Acts of Appreciation.
This powerful outreach looks for ways to extend God's love to our military and their families whether they are as close as Camp Pendleton or as far as Afghanistan. Since its inception in 2009, Acts of Appreciation has grown exponentially from serving 600 troops to over 7,900 troops, plus their families! According toDiane Reece, Saddleback's Military Ministry Coordinator, the ministry exists to share God's love and care for and to support our troops and their families. 
"We owe them a special debt of gratitude because every freedom we enjoy today," says Diane, "—including our right to worship freely, which has been born and maintained on the backs of brave men and women who through the centuries have served. They need to feel God's love in an experiential way and that is only possible through his body, the church."
The demand for this ministry is great, with thousands of troops and their families facing a variety of struggles such as loneliness, isolation, depression, anxiety, divorce, and single parenting while a spouse is deployed. All of these challenges, coupled with spiritual emptiness, create an atmosphere for the church to care as an expression of God's love.
This safety net of community serves military personnel and families who are disconnected from their own support networks. Among the many ways Saddleback reaches the military are through chaplain events such as parenting workshops; Baby Moses Baskets with baby gifts made by Saddleback's Sewing and Crochet Teams; monthly Coffee and Chat breakfasts for spouses and children; Christmas Blessings Toy Store with gifts for military kids; pre-deployment breakfasts and welcome home celebrations; care giver packs for loved ones visiting the wounded; and goody bags for deployed troops. Since 2017, nearly 2,000 goody bags have been donated—each containing cards of encouragement, snacks, and camo-designed Purpose Driven Life books and Bibles.
The feedback from the military has been remarkable, as one Marine stated: "On behalf of my Marines, I want to send a sincere appreciation and loved filled thank you for what you all do. It is a constant discussion with my Marines, to never take anything for granted, especially acts of kindness and service to others. I have been privileged to serve my Marines and this country for 18 years, and to this day…it touches a special place in my heart when I see the generosity and support our military gets from our country. We thank you, and can't say it enough. Your care packages are well received and instantly brings smiles and joy to the Marines and Sailors as we distribute them out. God Bless you, your purpose and this organization for what you do."
Echoing these sentiments was Brigadier General Sklenka and his wife Lauren who hosted a special Commander Conference Dinner on May 17. In attendance were commanders, sergeant majors, and their families coming from the 15 units in Marine Logistics Group (MLG). Additional senior members from the MLG staff and families attended the gathering held at the Camp Pendleton Unit Event Center.
In attendance was Saddleback's Acts of Appreciation team that was invited to be part of the memorable evening. According to Christine Winicki, Family Readiness Officer and Government Employee, the relationship between MLG and Acts of Appreciation has steadily grown and strengthened over nearly a decade.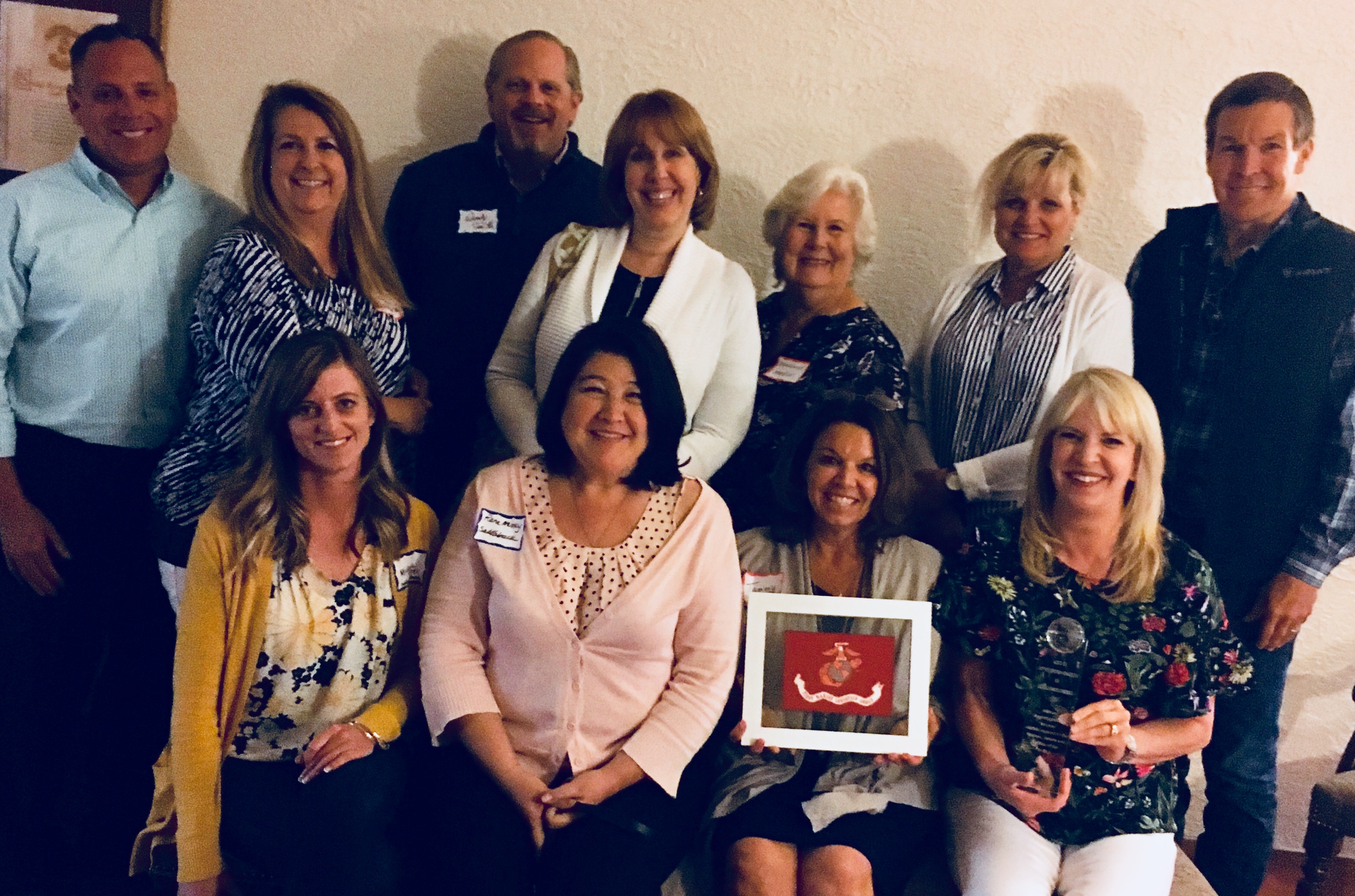 "Since relationships are critical to providing an effective network of support for military members and families, the Sklenkas wanted each commander to foster a relationship with the Acts of Appreciation leaders," says Christine.
During the event, General Sklenka offered words about the accomplishments of each individual and thanked their families for serving in MLG. He reminded the group that Memorial Day is observed to honor the sacrifice of these men and women, and that this same service is returned to individual Marines, Sailors, and family members through the dedicated, and continually growing commitment of Acts of Appreciation Military Ministry.
To recognize the faithful service of the group, the Commanding General presented the Acts of Appreciation leaders with an etched glass pillar, as well as a framed miniature of the MLG colors. A major highlight for the ministry team was this validation and gratitude by the Brigadier General of the entire MLG.
"This is an officer with a lot of influence on every Marine base on the West Coast," explains Diane. "He thought highly enough of the ministry and our efforts to make us a part of a dinner with his commanders and their families."
The General's wife later commented that the award was specifically designed with a globe to represent the far reaching impact of Acts of Appreciation. For Diane and her team, they interpreted this accolade as a love letter from God, letting them know that are are on course as good and faithful servants.
"Many of those we serve are not believers, which makes us just the seed planters" says Diane. "This ministry allows us to live out our purpose of serving God while making a difference."
Unlike other Saddleback ministries, Acts of Appreciation takes place on a government installation interacting with government employees. In order to have a faith-based ministry at Camp Pendleton, they must be a member of the Para-chapel council on base and abide by established rules. This additional step in establishment has allowed volunteers to trust God to work through any and all situations. Above all, they strive to be known as God's people doing a God thing, rather than simply good people doing a good thing. The payoff has been priceless, says Diane.
"We have been blessed with many ways that volunteers can join our team and live out their purpose using their personal gifts and talents that God has bestowed upon them," she says. "God has formed an awesome team that has been instrumental in the growth of this ministry. I believe that the Lord is opening doors for yet another exciting and meaningful chapter in the history of this ministry."
If you want to be part of the next phase of this ministry and join serving opportunities, visit saddleback.com/actsofappreciation.